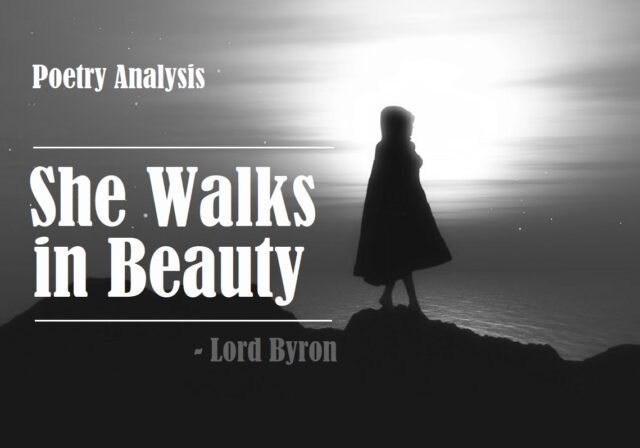 She Walks in Beauty




– Lord Byron
---
She Walks in Beauty is a short lyrical poem by Lord Byron, celebrating female beauty. The poet describes an unnamed woman who is exceptionally striking. The poet describes not only her external appearance but also her inner goodness which makes her so captivatingly attractive. Byron compares her to the night sky describing her serene and perfect beauty. Although the poem is generally thought to be a love poem, the poet never actually declares his love for this lady.
---
She walks in beauty, like the night
Of cloudless climes and starry skies;
And all that's best of dark and bright
Meet in her aspect and her eyes;
Thus mellowed to that tender light
Which heaven to gaudy day denies.
.
One shade the more, one ray the less,
Had half impaired the nameless grace
Which waves in every raven tress,
Or softly lightens o'er her face;
Where thoughts serenely sweet express,
How pure, how dear their dwelling-place.
.
And on that cheek, and o'er that brow,
So soft, so calm, yet eloquent,
The smiles that win, the tints that glow,
But tell of days in goodness spent,
A mind at peace with all below,
A heart whose love is innocent.

---
George Gordon Byron (22 January 1788 – 19 April 1824), known simply as Lord Byron, was an English romantic poet. He was one of the leading figures of the Romantic movement, and has been regarded as among the greatest of English poets. Among his best-known works are the lengthy narratives Don Juan and Childe Harold's Pilgrimage; many of his shorter lyrics in Hebrew Melodies also became popular.
---
Themes:
Around the poem, Lord Byron engages with themes of beauty, clarity and purity. When seeing his cousin, he's struck by both elements of her physical presence. She has a pure beauty that he feels is unmatched by any he's seen in the back. He's taken by what she looks like as well as her inner beauty. Byron certainly idealizes his vision of his cousin but, it's this perfect image that makes the poem so universal and enduring.
---
Struture and Form:
The poem is well strutured and systematically organized. This is a three-stanza poem, each stanza of which contains six lines. This is the poetic form that is mostly used for hymns and thus associated both with simplicity and with chasteness. The poem itself is a type of love poem. The poem follows a rhyme scheme of ABABAB.
The poem's meter is also written in iambic tetrameter. The lines contain four sets of two beats, the first of which is an unstressed syllable and the second of which is a stressed syllable. These two syllables together make one iamb.
---
Poetic Appreciation:

About poem, poet and title

'She Walks in Beauty'.




A Short Lyrical Poem.




English romantic poet Lord Byron.

The theme

Inner beauty and outer beauty.




Beauty and harmony of mind and body.




Balance between light and dark.

Poetic style

Consisting of three stanzas.




All stanzas are well-balanced to present the idea of beauty. Written in Iambic Tetrameter.

Language and poetic devices

Presented in rich and impressive language. Use of Simile, Antithesis, Alliteration and Personification. The poem follows a rhyme scheme of 'ababab'.

Special features

Byron has given this poem a romantic feel and touch to make it an eternal literary piece.

Message, value, morals

Outer beauty attracts, but inner beauty captivates. External beauty is a gift but an internal beauty is an accomplishment.

Own opinion

According to me, beauty is not in the Face, beauty is a Light in the Heart. I think, everything has beauty but not everyone sees it.
---