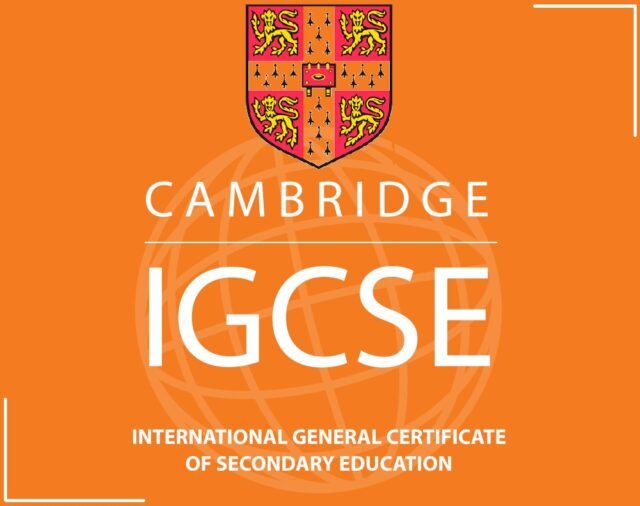 IGCSE: International General Certificate of Secondary Education
---
The International General Certificate of Secondary Education is a two-year program for students of Grades IX and X (14 to 16-year olds). It is an international curriculum, aligned to the standards of GCSE followed in the United Kingdom. The program is offered at a global level by Cambridge Assessment International Education, a part of the University of Cambridge.
Cambridge IGCSE is the world's most popular international qualification for 14 to 16 year olds, attracting over 800000 subject entries every year from 150 countries, ending in a Cambridge IGCSE certificate. It is an English language based examination similar to the GCSE and is recognised in the United Kingdom as being equivalent to the GCSE for the purposes of recognising prior attainment. It was developed by Cambridge Assessment International Education.
The examination boards Edexcel, Learning Resource Network (LRN), and Oxford AQA also offer their own versions of International GCSEs. Students normally begin studying the syllabus at the beginning of Year 10 and take the test at the end of Year 11. However, in some international schools, students can begin studying the syllabus at the beginning of Year 9 and take the test at the end of Year 10.
The qualifications are based on individual subjects of study, which means that one receives an 'IGCSE' qualification for each subject one takes. Typical 'core' subjects for IGCSE candidates include a First Language, Second Language, Mathematics and one or more subjects in the Sciences.
---
Benefits of IGCSE curriculum:
Highly student-centric


Prepares students as global citizens

Helps students to become independent and innovative learners

Develops a passion for lifelong learning

Values student's engagement in research work, research methods and ethics

Prepares students for admission to international universities in a better manner than other curriculums

IGCSE programs are more practical and application-based

The designers of the IGCSE curriculum and the assessment in Cambridge have been determined to create a framework which supports both the teachers and the learners

IGCSE Curriculum is flexible and easy to adapt

The curriculum is designed in such a way that it encourages students to come up with new ideas and resources

The teachers will only provide the foundation of the syllabus while students are expected to analyze the subject matter to develop a better understanding of the same

Students are taught to become independent with minimal supervision

IGCSE curriculum is ideal for students who plan to relocate and pursue higher studies in foreign countries

The assessment techniques check the problem-solving skills, time-management skills, practical and oral skills, initiative and application of skills, knowledge and understanding

The curriculum gives an international perspective to studies and it is compelling as well

IGCSE curriculum is of application-oriented learning
---
IGCSE: Educational Resources for Schools
IGCSE: Digital Learning
IGCSE: Professional Development
---
"The Cambridge International General Certificate of Secondary Education (IGCSE) is a two-year educational programme that is offered for students between 14 and 16 years old. The IGCSE qualification is recognized worldwide and serves as an ideal preparation for further studies and international qualifications.
Furthermore, the International General Certificate of Secondary Education is the world's most popular international qualification for young students. Not only is it truly international – it gives students more options than any other international qualification, allowing students more ways to learn and succeed. IGCSE is the registered trademark of Cambridge Assessment International Education."

---
also see: